Japanese Flower Art Meets Mixed Reality
For the first time ever, we eyewitnessed a collaboration between technology and Ikebana, a Japanese art. This event took place on February 27, 2020 by invitation from Consul General of Japan in Seattle and sponsored by Ikebana International Seattle chapter. Headmaster Hiroki Ohara created a stage-wide landscape arrangement featuring topography of Mt. Rainier and Mt. Olympus in Washington state. Then Headmaster Ohara put on the Hololens 2 goggles which enabled the superimposition of the natural scenery. He painted designs around his Landscape Ikebana. The audience was amused to see the juxtaposition of Ikebana and cutting edge technology.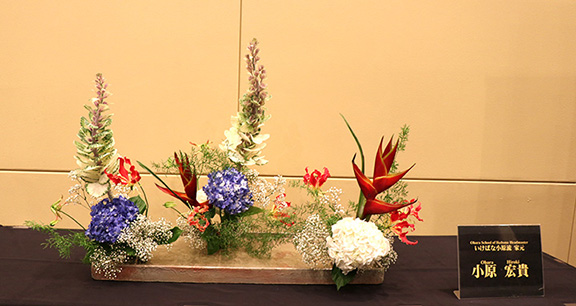 On February 29, 2020 Headmaster Ohara gave a demonstration for the Northwestt Flower and Garden Show held at the Washington State Convention Center in Seattle. He created three arrangements in Heika, Rimpa-cho, and Landscape Moribana styles.